Leach Chiropractic Clinic
Introducing Dr Madison S. McKee
We are pleased to announce the newest addition to our professional staff, Madison S. McKee, B.S., D.C. Dr. McKee recently became the third doctor on our staff, after graduating Summa Cum Laude from Life University College of Chiropractic in Marietta, Georgia, and completing her preceptorship here at Leach Chiropractic last year. She was born & raised in Bay Springs, MS, where she graduated from Stringer High School in 2015. After receiving an Associate in Arts degree from Pearl River Community College, she earned a Bachelor of Science degree in Kinesiology from Mississippi University for Women. A Phi Theta Kappa in community college, she played softball throughout her undergraduate career.
While at MUW her team finished 3rd in the nation, and she earned USCAA First Team All-American honors. She was twice named to the USCAA National All-Academic Team. Since graduation from Life University, she completed coursework and became ICPA Webster Certified. Dr. McKee has an interest in chiropractic health and wellness care for women, including pregnancy as well as pediatric care. When not at the office, Dr. McKee loves spending time with her Goldendoodle Goose and her husband, Cody McKee.
Dr. McKee is on the provider panel of all insurances accepted by Leach Chiropractic, including Blue Cross and Blue Shield of Mississippi, Ambetter, Magnolia Health, Molina, Aetna, Optum, Medicaid, Medicare, CHIPS and others. When scheduling an appointment with Dr. McKee, our receptionist can verify that your insurance is accepted here.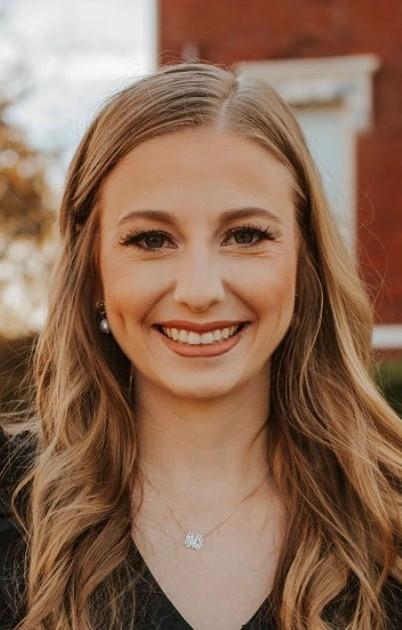 Click Here for July's Newsletter
Opening Hours:
Monday – Friday Morning:
8:00 a.m. – 12:30 p.m.
Monday – Thursday Afternoon:
2:00 p.m. – 6:00 p.m.
Saturday – Sunday:
Closed
We're located at

214 Russell Street, Starkville MS, 39759
Best Chiropractor for 2023
We were honored by our patients and friends this spring who again in 2023 voted us the Starkville
Daily News People's Choice for "Best Chiropractor!"
While we are done with COVID, sadly, it probably isn't done with us. That's why behind the scenes we
are keeping in place some of the safeguards to protect you, such as keeping waiting areas and chairs
safely distanced, spreading patients out on our schedule more so than prior to the pandemic, and
continuing to sanitize our chairs, tables and hands between patients. We encourage boosters for our
staff and patients who are at risk with comorbidities.
We continue to strive to offer excellence in patient centered and evidence based chiropractic care to
Starkville and our surrounding communities.
We are blessed to be able to serve you, and thank you for honoring us with this award,



Dr Robert A. Leach
Dr Zachary B. Thomas
Dr. Madison S. McKee
Robert A Leach, Jr. LMT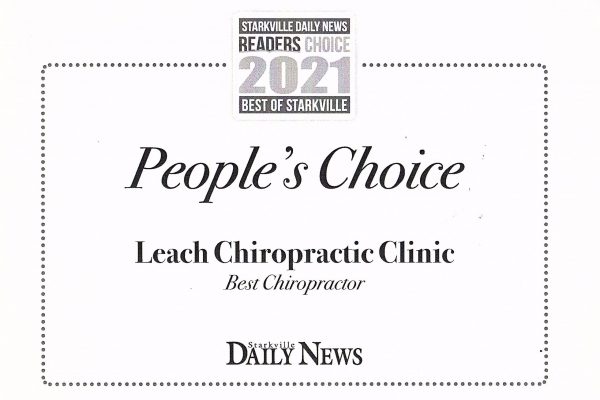 Drawn to Serve as a Chiropractor in his Home Town
Dr. Zachary Thomas had been accepted into PT school as he approached graduation from Mississippi State University, but says that after an internship in Starkville, seeing patients recover from even chronic crippling pain, he switched and decided to go to Life Chiropractic College in Atlanta. He says he wanted to help people recover from serious problems, and wanted to come back home where he was born and raised.
Interest in Treating Sport Injuries


A former middle linebacker and TE for Starkville Academy as well as a center for Starkville Academy Basketball, while studying kinesiology at MSU Dr. Thomas found the time to help manage the MSU football team wide receivers, and was a practice player for the men's and women's basketball teams. While practicing in Starkville he plans to continue his education with a focus on treating sport injuries, and to earn certification as a sports chiropractor (CCSP).
Family Atmosphere and Patient Centered Evidence Based Approach
Dr Thomas said that he chose his senior chiropractic internship at Leach Chiropractic because he was attracted to the family atmosphere and patient centered, evidence-based approach to treatment of patients. He says that he is excited to have the opportunity to serve patients in the Starkville community.