Leach Chiropractic Clinic
Our staff is all completely immunized for our and your protection from COVID-19.
Dr. Leach will be featured in a MPB TV Show live September 17th at 7:30PM.
Opening Hours:
Monday – Friday Morning:
8:00 a.m. – 12:30 p.m.
Monday – Thursday Afternoon:
2:00 p.m. – 6:00 p.m.
Saturday – Sunday:
Closed
We're located at

214 Russell Street, Starkville MS, 39759
Leach Chiropractic Clinic People's Choice: Best Chiropractor for 2021
We were honored by our patients and friends this spring who voted us the Starkville Daily News People's Choice for "Best Chiropractor!" It's been a roller coaster this past year as we've gone through a number of changes, trying to keep our patients safe while offering evidence-informed and patient-centered conservative spine care.
Dr. Zachary Thomas (Starkville Academy 2012, MSU 2016) joined our practice a year ago after completing his internship here the prior year. Needed improvements to our facility were finished.
And on the heels of that we navigated through the pandemic, using personal protective equipment and sanitization procedures, spreading out our appointment times and chairs to enable social distancing, and wearing facemasks, all to attempt to reduce spread of the virus among our patients and staff.
We are blessed to be able to serve you, and thank you for honoring us with this award,

Dr Robert A. Leach       
Dr Zachary B. Thomas     
Robert A Leach, Jr. LMT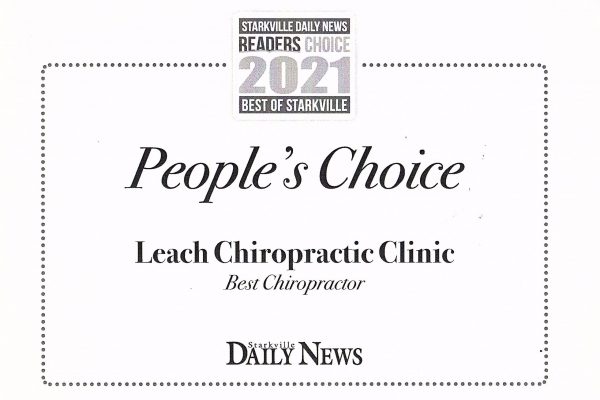 Drawn to Serve as a Chiropractor in his Home Town
Dr. Zachary Thomas had been accepted into PT school as he approached graduation from Mississippi State University, but says that after an internship in Starkville, seeing patients recover from even chronic crippling pain, he switched and decided to go to Life Chiropractic College in Atlanta. He says he wanted to help people recover from serious problems, and wanted to come back home where he was born and raised.
Interest in Treating Sport Injuries


A former middle linebacker and TE for Starkville Academy as well as a center for Starkville Academy Basketball, while studying kinesiology at MSU Dr. Thomas found the time to help manage the MSU football team wide receivers, and was a practice player for the men's and women's basketball teams. While practicing in Starkville he plans to continue his education with a focus on treating sport injuries, and to earn certification as a sports chiropractor (CCSP).
Family Atmosphere and Patient Centered Evidence Based Approach
Dr Thomas said that he chose his senior chiropractic internship at Leach Chiropractic because he was attracted to the family atmosphere and patient centered, evidence-based approach to treatment of patients. He says that he is excited to have the opportunity to serve patients in the Starkville community.